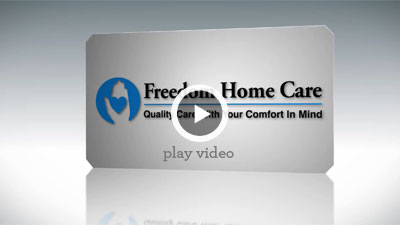 "We have gone to other home service agencies in the past for my mother, but they were nothing like Freedom Home Care and Medical Staffing. My mom truly enjoys and respects Karen and Martha as they provide her companionship and ensures her comfortability is their utmost priority. They provide her rides to her different appointments whether it be to the doctor or to a beauty salon. Freedom Home Care and Medical Staffing also helps my mom after her treatments, even going as far as staying up all night to attend to her needs. They have easily earned my mother's trust (which is highly important to her) by being respectful and attentive. I would definitely recommend Freedom Home Care to anyone seeking reliable home care for a loved one.." – Dan H.
"I turned to Freedom Home Care after a recent and extended hospitalization. I am presently using a daily, hourly caregiver. Francine Brodsky was a pleasure to work with. She communicated with me on a Saturday when the office is normally closed. She alleviated any fears and uneasiness I had about coming home. My caregiver, Samson is excellent. Samson is very attentive and makes sure you are always under his thoughtful and watchful eye. Samson is respectful of my privacy and follows up of all details of my care. He does not talk/chatter unless he is addressed. He is very prompt and willing to do whatever is asked of him. I have never used another home service agency. I would definitely recommend Freedom to others." – Andrea R, Riverwoods, IL
"The caregivers, Matthew, Greg and Tai are very nice and really seem to have a good energy for Bill. They are kind, engaging and seem to truly care that Bill is comfortable and happy. They are great about keeping our family informed and updated on Bill's day." – Lori G.
"We were delighted with the responsiveness that Freedom Home Care had to our questions and needs. Their attention to detail, their follow through after phone calls and their ability to handle issues directly and carefully when issues did arise, made certain that we had good people available to help. If you are engaging in care 24 hours a day, you are hoping to build a relationship between your family member and a stranger. Your family member, who may have been independent, now must adjust to accepting assistance. It is not easy. Freedom home care has a good list of good people. Freedom Home Care does their job very well." – Bill S, Lake Barrington IL
"We appreciate all the hard work and support Freedom Home Care and Medical Staffing and their staff have provided for Dee's daily care. Each caregiver has been reliable, dedicated and committed to her care helping her continue to do well and be able to live in the comfort of her own home. They have continuously gone the extra mile to take good care of her and we are grateful for their help. Freedom Home Care and Medical Staffing and their staff have made a tremendous difference in her and our lives." – Pat and Angie, Lake Zurich IL
"It is rare these days to find an agency that performs above and beyond your expectations. Freedom Home Care and Medical Staffing is one of those rare agencies. We have had the honor to work with Freedom Home Care and Medical Staffing for the last five years and am impressed by their professionalism, focus on patient care and attention to detail. We have been so impressed by Freedom Home Care and Medical Staffing's responsiveness and care they provide to our patients we requested them to be one of our preferred providers in the north territory for home care services." – Advocate Home Health Services, Oak Brook IL
"I have had the good fortune to use Freedom Home Care and Medical Staffing for many of my older adult clients and would strongly recommend them and their excellent caregivers. They are incredibly responsive and proactive with their clients…Freedom Home Care and Medical Staffing has always come through for us!" – Julie, Geriatric Care Manager, Highland Park IL
"My father's caregivers are exceptional people. We feel blessed to have Freedom Home Care and Medical Staffing and their splendid caregivers who give us peace of mind every day knowing that all is well when our father is in their care." – Suanne and Matthew, Highland Park IL
"I highly recommend Freedom Home Care and Medical Staffing. I have worked with Freedom Home Care and Medical Staffing for approximately eight years with both my father and mother-in-law. We are extremely pleased with the quality and consistency of the caregivers. My mother-in-law's caregiver has been with her for five years. Freedom Home Care and Medical Staffing's staff acts quickly in emergency situations. The most impressive things about Freedom Home Care and Medical Staffing are their willingness to listen to their clients and their exceptional understanding how to match the personalities of caregivers and clients." – Laura, Highland Park IL
"I am eternally grateful to my wife's caregiver for her care and support in such a trying time. From the time she arrived until the time she left, she was like a member of the family. I highly recommend Freedom Home Care and Medical Staffing to to anyone who needs care." – Willard, Northbrook IL
"Freedom Home Care and Medical Staffing does an excellent job of providing care in the home and providing compassionate caregivers to patients in transition from the hospital to the home. Freedom Home Care and Medical Staffing really knows what they're doing. They're a family-owned business that's been around for 20 years. They have a great sense of responsibility and dedication to servicing their clients and are very proactive, responsive and reactive with regards to training, and intervention when necessary." – Local Gerontologist, Care Manager
"Freedom Home Care and Medical Staffing helped care for my 80-year old father, who has since passed away from COPD, chronic obstructive pulmonary disorder, when my mother was at the stage he could not be left alone and she could not care for him herself. This was a hard step to take but my mother still needed to have a life. The people at Freedom Home Care and Medical Staffing were so warm and helpful and treated us like family. They helped put us at ease and were a great source of comfort for us. They even helped us with research, advocating and anything out of the ordinary – we really felt our case was really important to them and we were not just a number. They always sent great people to care for my Dad and each person built a relationship with us over the 8 months before he died." – Nicole Silverman, Highland Park, IL
"Freedom Home Care and Medical Staffing has been around in for a long time and seem to take their business and client satisfaction as personally as I do. They provide great care and are available 24/7. If one of my clients needs help right away, in the evenings or over the weekend, I feel comfortable referring them to freedom because I know they'll be well taken care of. I once referred a very demanding client who had surgery and needed healthcare at home and drivers to take her to and from doctor appointments. Although Freedom didn't have a driver available, they ended up going above and beyond and their management team ended up taking her herself." – Senior Housing Specialist
"My sister and I live out of town and it was a challenge managing her care from a distance. Freedom Home Care and Medical Staffing went above and beyond in caring for our elderly mother who wasn't very mobile and in the end died of a fatal lung disease. My mother had very high standards and didn't always see what was best for her. Freedom Home Care and Medical Staffing was able to provide excellent caregivers who were tolerant, patient, and offered validation for her wants and needs. We especially appreciated Freedom Home Care and Medical Staffing's unique, customizable services and flexibility in changing and adapting care as her condition worsened and would highly recommend them to others." – Stephanie Mills, Baltimore, MD
"Freedom Home Care and Medical Staffing provided round the clock live-in care for my aunt who has a lot of chronic health issues including rheumatoid arthritis and several lung surgeries. They helped take her grocery shopping, drove her to appointments, and even helped care for her dog. While my aunt is quite high-maintenance and can be hell on wheels at times, once her and her caregiver got into a flow she really appreciated having them there. Freedom Home Care and Medical Staffing was always on top of their game and is very conscientious in addressing any concerns that arose. Plus, they went above and beyond to insure that the caregiver mindset matched that which was needed by my aunt. Thankfully, my aunt is starting to get better and can get around easier on her own and doesn't need as much help at night. ~" – Maggie Riggo Thames
"There is a high falling risk with Parkinson's disease and those who suffer have to be watched at all times. Because of their tremors, balance and speech impediments, Parkinson's patients require specialized care and patience. We're fortunate to have Freedom Home Care and Medical Staffing help my husband for the past four years with his morning routine, help take him to appointments and classes, and provide me the freedom to have flexibility with my schedule. An agency is only as good as the caregivers they employ. Freedom Home Care and Medical Staffing has always been very reliable, available and interested in helping. Everyone has been very thoughtful, caring and flexible regarding their time and schedule – they'll stay later or come earlier and are always very prompt and reliable." – Jane Page, Glenview, IL
"We turn to Freedom Home Care and Medical Staffing to help our residents and others in their caregiving needs as well as transportation, laundry, etc. Freedom Home Care and Medical Staffing does an excellent job at seeing a need that needs to be met and modifies their duties to accommodate the patient. They go beyond the caregiving edge and have even helped someone who didn't want to go home alone post surgery and took her on day trips and outings to the botanical gardens. Freedom Home Care and Medical Staffing provides a family-oriented persona, their caregivers are very personable and have a human touch sets them apart. I can call them anytime of day and they are always ready to help and can often have someone in place in 30 minutes." – Constance Branstrom, Healthcare Outreach Coordinator, Covenant Village of Northbrook