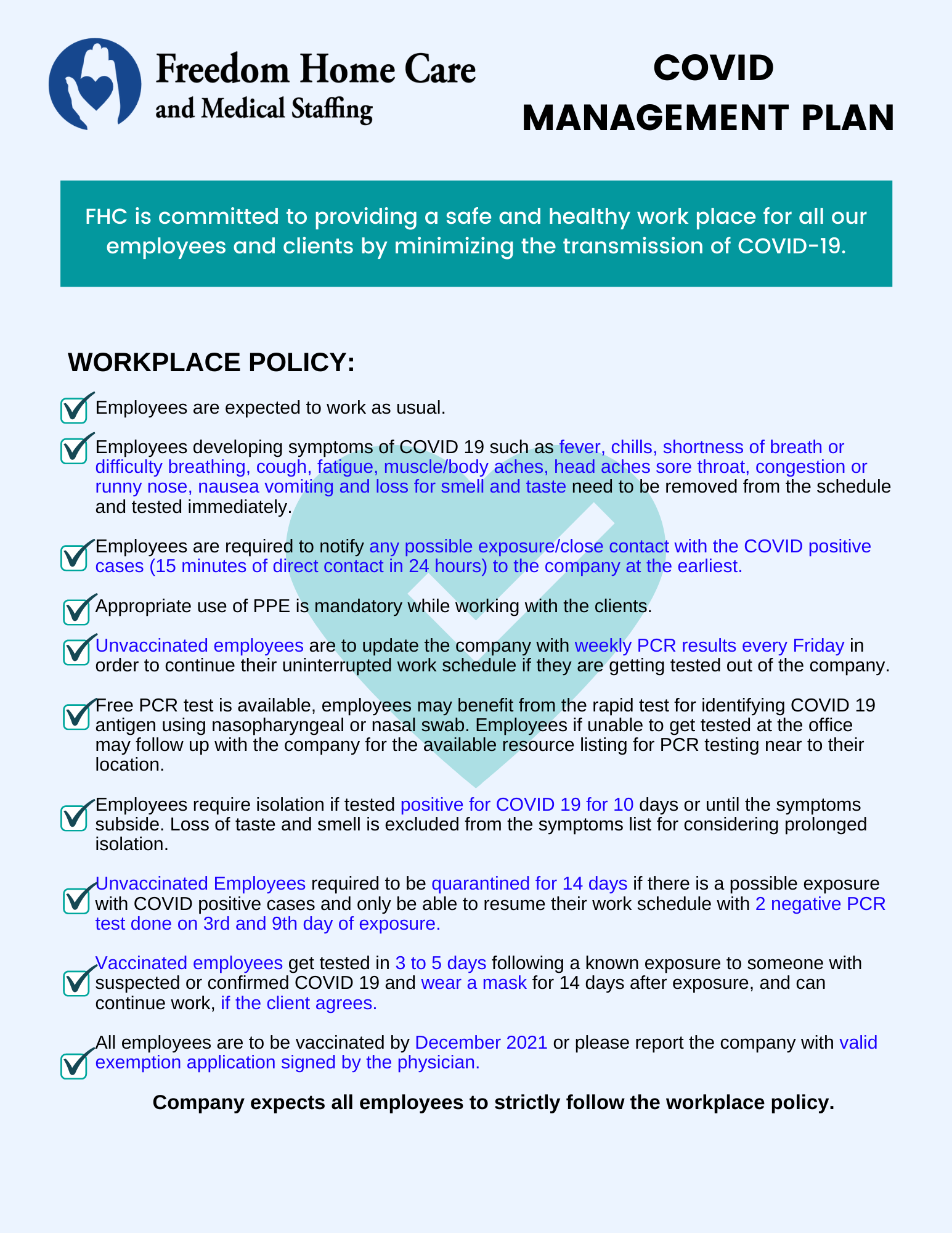 Freedom Home Care Is Here to Help
In light of COVID-19 as the need for in-home care rises, Freedom Home Care and Medical Staffing is ramping up staffing and protections while servicing clients in-home to ensure our client's safety.
COVID-19 Vaccine Information
Freedom Home Care is hosting private vaccine clinics for our clients and staff. Contact us to learn more.
If you have not already, we encourage you to sign up to get the vaccine depending on which county you live in using the links below.
Lake County
The Lake County link is an actual registry and you will be contacted when you can get scheduled to get the vaccine.
Veterans Affairs
If you are a Veteran we suggest you also sign up on the Veteran Affair's registry.
Freedom Home Care is:
Completing risk assessments on our staff to help in determining risk and preventing placement of a staff that may pose risk for exposure.

Screening all staff prior to working on a shift for symptoms when they clock in and out.
Requiring our staff to complete a Docusign document that screens them and requests them to report if they are working elsewhere (for example – with other clients, for another agency, or directly with a facility).

Educating our staff of signs and symptoms to know when to report concerns to FHC for their own safety and safety of clients.

Tracking every call that is reported and following up if a sickness if reported. To date, most of our staff have negative results, we are only aware of ONE caregiver that has tested positive.
Participating in weekly conference calls with IDPH and the CDC as well as the Lake County Department of Health.
Constantly updating our website with additional employee resources for everything COVID-19 related including but not limited to: proper hand-washing techniques, how to use PPE, how to maintain and re-use PPE, what to clean and disinfect every shift, and general resources and educational pieces from the CDC and IDPH. from

Monitoring all clients to ensure care plans are updated with optimal coverage so all needs are met.

Safeguarding that all staff consistently wash their hands upon arrival in a client's home (and before providing personal care), after providing personal

care, and prior to preparing meals. Additionally, they make sure client has

proper antibacterial wipes in home so staff can clean surfaces frequently.

REQUIRING all our employees to wear masks to work daily. Anyone 1:1 with clients has surgical masks.

Offering some PPE personal protective equipment to our staff and clients, such as masks and gloves – as it is available. We also now have PPE supplies to care for COVID positive patients!

Monitoring temperatures of all caregivers with forehead thermometers.

Offering supplemental vitamins (to boost immune system) to all staff members.
What Freedom Home Care is asking of you:
Limit outside family members and visitors.
Ensure proper and efficient disinfecting by our staff daily
Request the temperature of all visiting staff at the beginning, middle, and end of each shift.
Limit time outside of your house and always wear a mask.
Boost your immune system by washing your hands regularly, eating right, exercising regularly, maintaining a good sleeping schedule, and taking vitamins.
Call Freedom Home Care and/or your External Care Coordinator if you are in need of any supplies, information, or support. We are here to help.
If you are interested in learning more about COVID-19, click here for training materials.
Click here for Lake County Illinois testing site information.
The Lake County Health Department reminds all residents to continue taking precautions to prevent the spread of COVID-19. As a reminder, all individuals may be tested for COVID-19, regardless of symptoms, travel history, or known exposure to the virus.
Freedom Home Care is hosting FREE PCR COVID testing weekly at our Highland Park office location. Call the Freedom Home Care office to schedule a time. The office number is 847-433-5788.
For more information about COVID-19 testing, visit dph.illinois.gov/testing. LCHD provides regular updates to Lake County communities via the Data Hub and its social media.
"*" indicates required fields