Meet Farida Javed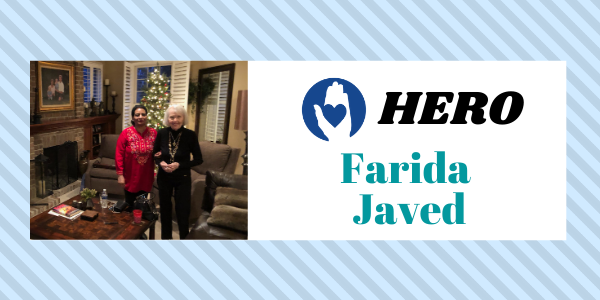 To say Farida Javed is grateful for her recognition as Freedom Home Care Hero of the month would be an understatement. "As a mother of four adult children who are all in the healthcare field, I immediately called my kids all around the world to let them know of my honor. I was so proud to share the news with my family and they are so proud of me!" exclaims Farida. Originally from Pakistan, where she was an Advocacy Officer at the World Health Organization, Farida left her prestigious position to move to America and care for her newborn granddaughter while her newlywed daughter and son-in-law worked.
"I loved the quality time I was able to spend with my family, but as she grew up I needed to find work. As fate would have it, I was driving and saw a Freedom Home Care vehicle, wrote down the number, called and the rest is history!" A certified caregiver, Farida jumped right into her new position with Freedom and has never looked back. "The clients Freedom has matched me with have become like family to me. The most rewarding thing about working with seniors is to be able to help them do things they love so they can live a fulfilled life to the best of their capabilities – I hate to see anyone helpless."
From one of Farida's clients:
"Farida was with us from the beginning of mom's need for help until the actual moment of mom's death when several of us gathered in mom's room to be with her. Over the two plus years Farida and Mom were together, they became good friends. Mom trusted Farida with her care. Their conversations were gentle and meaningful.
Now that mom has left us, we find our hearts with two holes. One for mom and the other for Farida who became such an important part of our family."
Meet Tobi Adeboyejo
"Having been in the nursing field my entire professional career, most recently as Assisted Director of Nursing, I was looking for something to supplement my income while keeping up with my hands-on clinical nursing skills," states Tobi Adeboyejo, Freedom Home Care RN of the month."
Tobi knew of Freedom Home Care's reputation for excellence in caregiving from his years of experience in the assisted living industry. "I love what Freedom stands for, the passion they have for the people that work for them and their clients, and the fabulous communication they offer everyone. To be honest I think I received such an honor because of my positive attitude. I walk into any facility with a smile on my face, becoming a part of the team, and they keep asking for me to come back! I just want to say thank you to Freedom – I feel so blessed! It's probably the best honor I have ever received."
A local medical facility Tobi works at says He is reliable, professional and a true gem. Whenever we place him at facilities they always compliment his work ethic. We are so lucky to have him on our team."