Meet Tiffany Wallenberg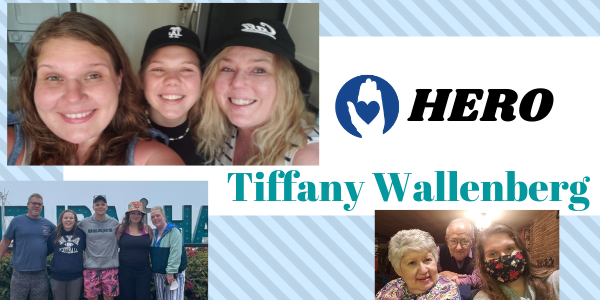 Tiffany Wallenberg was nominated by a family member of a client to be honored for her outstanding work. Tiffany graduated from Niles North High School in Skokie, IL. She received her caregiving certificate from Freedom Home Care when they provided a program 3 years ago. The reason why she chose to pursue caregiving was because of her grandma named Sharon. Sharon had a lot of ailments and to see someone she loved not be able to care for herself really destroyed her. Her grandma went through it all, in and out of hospitals and nursing homes. As her family discussed her health and well-being they all decided to let her stay and live with them. Tiffany watched her mother work a fulltime job, cook dinner almost every night, and also provide care for my grandma. That's when she has stepped in and helped take care of her grandma. Every morning and afternoon Tiffany would help her with all her personal care and daily activities. She cooked her breakfast/lunch, showered her, picked out a cute outfit for the day and took her for daily walks. Her grandma also loved when she gave her back massages. It was her grandma's favorite part of the day! Tiffany really enjoyed helping her Grandma. It made her feel satisfied especially seeing her grandma happy. Tiffany's heart was full of warmth. Tiffany realized she had a passion and wanted to continue to help the elderly because it made her me feel complete. It made Tiffany realize that she can make a difference with other seniors and attend to their needs. It certainty has been noticed by the families and clients she cares for at Freedom Home Care. In her free time she likes to work out at the gym, spend time with family, and go grocery shopping. Every time she goes to the grocery store she calls her clients to see if they need anything. No matter what she wants to make sure her clients are happy and taken care of.
Tiffany is the daytime caregiver for my 91 year old mother. Tiffany is an excellent companion, and her bright, sunny personality has been very good for my mother, who loves Tiffany's visits. Tiffany excels at taking care of my mother's home, shopping for her, and doing other tasks around the house. Tiffany is dependable, and has been timely in her communication with my sister and I regarding my mother's health and care. Tiffany has been a great member of "Team Mom." I want to let you know that I am very pleased with Tiffany, and the work she is doing for my mother.
-Daughter of client who lives in Morton Grove , IL
*Pictured on the right: The Klowdens, who live in Skokie and love having Tiffany as their caregiver.