April was a great month for our caregivers! You can tell how much they care about what they do. We will always consider all Freedom Home Care staff members as heroes, but this month we are highlighting Sam and Nicole! Learn more below:
Meet Sam Fapounda, Caregiver of the Month!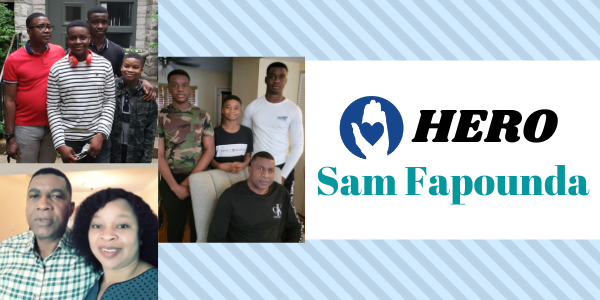 Thank you to our client, Jacques Chevalier, who nominated his wonderful caregiver and friend Abiodun "Samuel" Fapounda as Caregiver of the Month.
Samuel started his career by selection into the Nigerian Defence Academy as an Officer Cadet and commissioned into the Navy as a sub- lieutenant. He served for 27 years, during which he continued his education and training at the Military Police School, Armed Forces Command and Staff College (in Nigeria ). He also trained at the United States Coast Guard Training Center in Yorktown, Virginia, where he participated in the Maritime Law Enforcement course, and the Federal Law Enforcement Center, where he studied Port Security and Anti-Terrorism. He worked both in staff and command appointments, so numerous to mention; including the Commanding Officer of a warship. His last appointment in the Navy was Command Provost Marshal, a very senior appointment in the Military Police. He retired at the rank of a Commander. He has a Bachelor of Science in Public Administration from the University of Port Harcourt and a Masters of International Law and Diplomacy from the University of Lagos in Nigeria.
After he retired from all his service positions, he relocated to the United States. It was then that he developed an interest in wanting to assist the elderly, so he trained to become a Certified Nursing Assistant. He has enjoyed helping the elderly and has met so many wonderful people along the way.
Jacques (who is 95 years old) nominated Samuel for Caregiver of the Month for many reasons. First and foremost, he considers him a dear friend. "Samuel is wonderful, and cheers me up," he said. "Not only is he a great caregiver, but he is my friend. He treats me with love, kindness and compassion," he added. "He's a wonderful listener and I learn so much from him. I feel very lucky to have him."
Samuel is married with three children. He loves to spend time with his family and also enjoys watching movies, listening to music and playing golf. Congratulations Samuel! We're proud to name you Caregiver of the Month!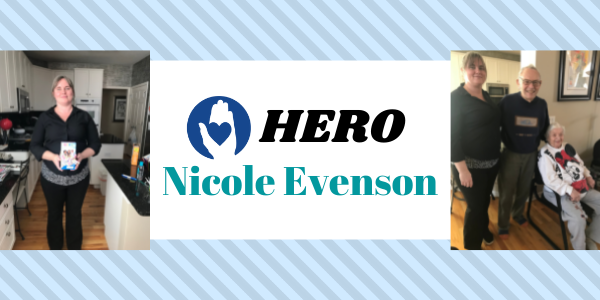 Meet Nicole Evenson, Caregiver of the Month!
Nicole Evenson is so honored to be nominated as Caregiver of the Month by her clients, Selwin and Syril Price!
Nicole has been working with Freedom Home Care for four years and has learned so much from this experience. Coming from a background in customer service, Nicole enjoys face to face contact with her clients. She likes to make sure everyone has everything they need and that she leaves them in a good mood with smiles on their faces. Nicole gets the greatest sense of pride from helping someone who needs it. Her passion for caretaking started a couple of years before she began working with Freedom. Unfortunately, her mother became ill and Nicole became her main caretaker. Nicole's biggest pleasure is lending a helping hand whether its her customers, her clients, her mother or her own kids! She believes that if you can be there for someone and make a difference in their lives, then it is a win/win for all! She loves to build a bond with her clients.
The Prices were excited to nominate Nicole for Caregiver of the Month. Mr. Price said that Nicole has been helping his wife for the last four years, and in January of this year, she started to help him as well. Nicole goes to their home 3-4 times per week. "The minute she walks in the door, she brightens my day," said Mr. Price. "She always has a nice smile and brings lots of laughter," he added. "She takes charge of everything as soon as she arrives."
He went on to explain, "Nicole is wonderful with the "every day" help we need such as meal preparation, dishes, laundry, linen changes, and occasional shopping. She does all the little things that are so difficult for us because we are in our 90's!" The Prices have also said that Nicole has the gift of a green thumb! She has "adopted" their indoor plants and has brought some of their orchids back to life. She always goes above and beyond and does things that truly help them like putting a new ink cartridge in the printer, changing clocks for daylight savings time, opening a jar, and so many other important daily tasks.
"She is a real blessing! The most important thing Nicole does for us is that she has allowed us to live independently in the comfort of our own home!"
Nicole enjoys cooking, laughing, and sharing stories with all of her clients at Freedom Home Care. "It's always heartwarming to see the sparkle in my client's eyes when they talk about their children, grandchildren and great grandchildren," she said. "I love to hear about their families!" Nicole also said that it never feels like a job when she is with her current clients Selwin and Syril Price. "They feel like family to me."
Nicole is engaged and has two teens, saying that having teenagers is an adventure of its own! She never has a slow day, and she prefers it that way! Congratulations, Nicole! Freedom Home Care is so honored to have you on our home care team.
Visit Freedom Home Care
Learn more about our services such as personalized elder care, certified caregivers, Alzheimer's care and in-home care services by visiting us or our website! Freedom Home Care is filled with the best employees that continuously go above and beyond every day. We'll never have to worry about running out of heroes! Check out our full blog catalog to read up on other heroes or view any other blogs. See you next month for May's heroes!