At Freedom Home Care, we love giving back to the community by either hosting or sponsoring events. This year has been busy with so many fun and useful events, so we wanted to put a spotlight on what our amazing staff have helped to make possible. Here is a recap of some events from 2022:
Holiday Activities & Events
A lot happened this holiday season. We had a Toys for Tots bin, and thanks to the generosity of our communities, we helped make a lot of Christmas wishes come true. We also helped host ornament and door decorating sessions for the residents of the Sheridan at Green Oaks.
Music Appreciation & Movie Thursdays
We sponsored multiple music appreciation sessions hosted by Jim Kendros at Dickinson Hall. A lot was learned about various forms of music. We also sponsored movies every Thursday at the Highland Park Senior Center. We had quite the audience showing up for the various movies we had playing each week!
Health Fairs
We were involved in multiple health fairs. These events connected the community to us and other local health related professionals and companies. It was a great feeling to pass along important information to members of the community. It was also a pleasure to see so many other groups from the health field, they are all so dedicated to what they do!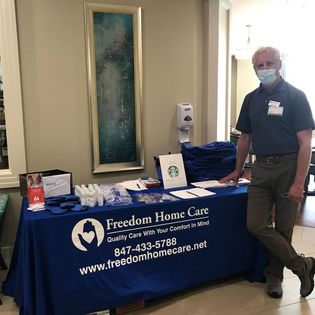 Additional Events & Sponsorships
We were one of the sponsors for a blood drive at the Highland Park Senior center. We hope the blood drive was able to help many people! We went out with the Highland Parks Athletics players to put up Paws for Patrick ribbons to help make the town green. Additionally, we were honored to sponsor a hole at the Children's Research Fund Junior Board golf outing, a table at Taste of Highland Park, Art in Bloom, and sending Northwood Middle School musicians to Six Flags! There was also bingo for Girl Scout Cookies, and flower arranging sessions. We love supporting our community in any way we can and will continue to help where we can this year!
Freedom Home Care in 2023
We love supporting Highland Park and beyond either through charity events or just making sure we have entertaining events to brighten a few days for people. But we wouldn't be ale to give back to the community without your support of us, so all of us at Freedom Home Care thank you! We look forward to seeing you all in 2023.