Congratulations Jaime Clifton – Our Manager of the Month!
Please join us in congratulating our Manager of the Month, Jaime Clifton, Freedom Home Care's Client Services Director! Jaime has been with Freedom for the last 7 years and we are so fortunate to have her on our team.
After graduating high school, Jaime decided to enroll in a program to become a Certified Nursing Assistant ( CNA). She attended CNA courses at the College of Lake County and has been a CNA for well over 20 years. After she completed her CNA courses, Jaime continued her education and completed the Medical Assistant program as well.
Her first job was in a long term care facility, where she cared for the elderly and those who were sick. "I loved everything about it," she said. "Knowing that I was making a difference in someone's life meant the world to me. I loved getting a return smile from someone I was taking care of and being there to holding someone's hand during the end of life. It wasn't always easy, but it felt good to be comforting to someone in need."
After working at the long term care facility for several years, she decided that it was time to learn something different. She took on a job at a local hospital as a labor and delivery tech. "This job was amazing," she said! "I learned so much!" Her favorite part was being able to watch life being brought into the world. She also loved being able to scrub in and assist with C-sections. Jaime was employed with the hospital for several years, but she knew in her heart that there was something more for her.
Which brough her to her next adventure, a position with Freedom Home Care & Medical Staffing!
Jaime has been part of Freedom Home Care since 2016, and it is truly her happy place. She absolutely LOVES what she does. The relationships that she has developed with her clients, families and their caregivers is truly special. And, the fact that she is making a difference in so many lives makes her feel complete.
When Jaime is not working, she enjoys spending time with her wonderful family. She has two boys who are her world. Her oldest son, Keegan, is 22 years old and he is currently a student and football athlete at Olivet Nazarene University. Her younger son, Nate, is 18 years old and loves playing basketball. He will also be attending Olivet Nazarene University in the Fall of 2023. Jaime is still trying to figure out how she will live life after Nate leaves for college and is an empty nester! She is sure she will be just fine, but will miss watching them in all of their sporting events. "My whole life has revolved around my boys and I am beyond proud of them," she said. She is looking at the next stage of her life to enjoy spending more time with her mother and grandmother. "Don't tell my mom, but my grandma is truly my best friend!" Jaime knows how quickly time flies and wants to make time to be with the people she loves!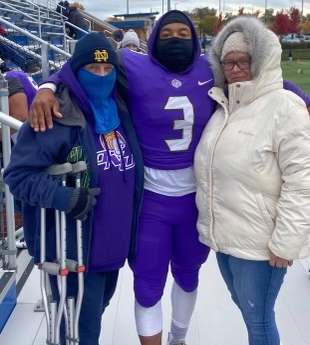 Jaime is truly a team player and treats of her clients, families and staff members dignity and kindness. We all look up to her and follow her lead because with everything she does, she has the kindest, most generous heart. We are beyond grateful to have her as part of Freedom Home Care.
One quote that she always keep in mind is this: "Sometimes it takes one act of kindness and caring to change a persons life" – Jackie Chan
This is so true for Jaime! She has changed so many people's lives!